organic tanning
a great alternative with great results
We are now offering ORGANIC airbrush spray tanning! Sunless tans are the healthy way to get that rich bronzed tan that we all desire! Lavish spray tanning solutions have a beautiful bronzed color and are made from 100% all natural ingredients. This express tanning solution only remains on the skin for 4 hours (opposed to 8hours with many other solutions) it is then washed off revealing your even, natural tanned skin. Your airbrush tan will last up to 7-10 days! No smelly spray tan smell either.

Prolonged sun exposure can quickly age your skin, causing it to dry out and wrinkle. It can even cause skin cancer.
Sunless tanning is a great alternative with great results!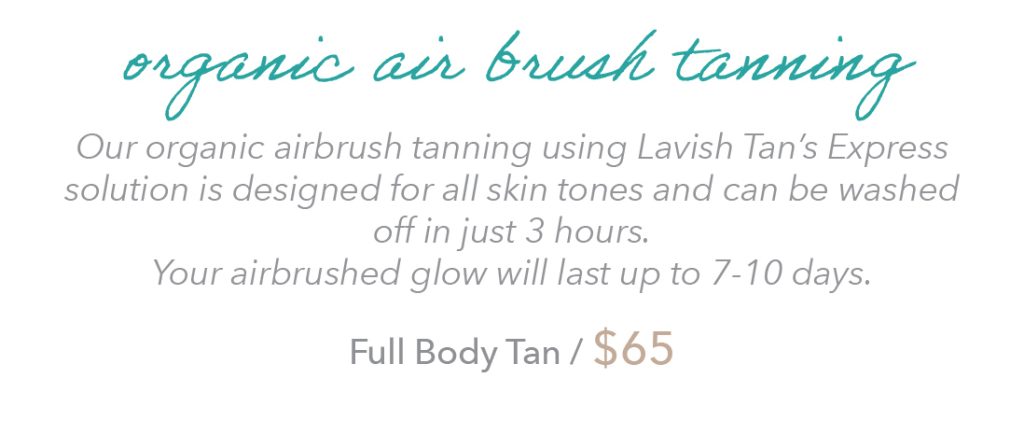 BEFORE YOU TAN:
If sugaring, book your sugaring appointment before your tan appointment.
Shower and exfoliate prior to tanning. Shave as well, if necessary.
No lotion, deodorants, oils or perfume after shower.
Wear dark, loose fitting clothing to your appointment.
Get your tan as close to your event/occasion as possible, but not the day of.
If possible, schedule your tan during afternoon/evening hours so you can sleep with solution on the skin and be more comfortable. You wont be able to shower for a minimum of 3 hours after tanning appointment, but 8 hours is optimal for best results.
Lavish tan frequently asked questions : http://lavishtan.com/lavishtan/faqs